Full scale demonstration of the Living in Light project at Gl. Jernbanevej in Valby in Copenhagen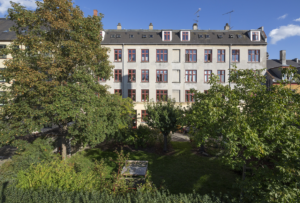 The existing Building at Gl. Jernbanevej
Gl. Jernbanevej 4-6 is a private rental property from 1899 located in Valby in Copenhagen. There are 20 apartments in the building – the four ground floor apartments are commercial leases. All the buildings apartments are with two rooms and the gross area is around 50 m². The loft apartments are a bit smaller.
Since there aren't bath rooms in the apartments and some apartments are having toilet at the backstairs it has been decided to modernize all apartments in the building.
Residential gardens – green areas with flexibility for the residents in relation to the indoor climate
The extra spaciousness makes indoor gardens in the apartments with new qualities for all apartments as well as the 4 new "town houses" on top of the building. Through the new glass "membrane" at the garden facade a maximum of light and air will get into the apartments. During the summer the "membrane" will be permeable in every way. The extra area can be used as a large open balcon towards the garden (west) as well as indoor area. During the winter the highly insulated energy glass facade is closed. The extra indoor area will add a maksimum of light in the apartments during the dark winter months.
The residents achieves an increased amount of light and air in their apartments due to the more direct connection between the garden and the apartments.
The layout of rooms in the apartments will be changed so bedrooms, the private areas, are facing the street and living rooms, the more social areas, are facing the garden.
The Living in Light Garden – Summer and Winter
During the winter the outer well insulated glass facade is closed and the inner is open. Thereby the added area between the two glass facades can be used as an extension of the living room, it adds 10m2 to the living area when it is mostly needed in the winter. Whereas in summer it can become a semi-enclosed space and extension of the balcony as well as more connected to the garden.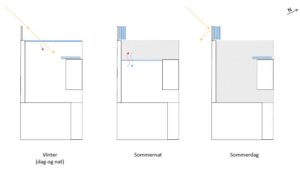 The solution consists of a 3-layered highly insulated outer glass facade and a 1-layered inner glass facade, the inner glass facade is located in the original facade's plan. Both the inner and outer facade can be pushed to the side. This solution results in large balconys during the summer and extra inner area during the winter.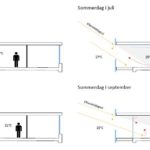 The optimization of energy and indoor climate has been analyzed by the Active House principles. This involves simulations of indoor climate, daylight conditions and energy consumption. The evaluation of the indoor gardens results in the highest classification. Read more about the Active House Evaluation here.